Our local bloggers are getting impatient with the administrators of Ping.sg, a website which aggregates their blog posts. About two hundred of them congregated outside the Ping.sg headquarters, located in Kallang. Many raised their disappointment over the lack of improvements made to counter the problem of sex-related posts dominating the 'most popular' list. Some when further and demanded the termination of cheat profiles. This is the latest and so far the most extreme call by Singapore bloggers to clean up their online reputations.




Bloggers protesting outside the Ping.sg headquarters.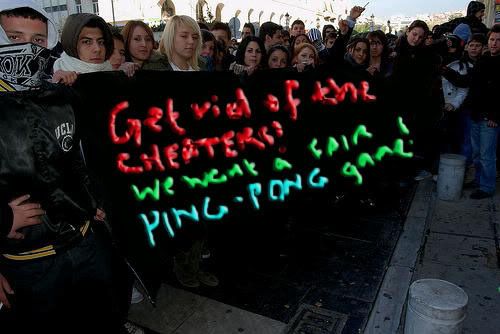 A group of bloggers holding their banner.




Chaos erupts when a blogger demands for more freedom to express his criticisms against the website online.




Even the children decided to take part in the protest to show how they were affected by the content shown on the website.

PS: This is just an April Fools' Day joke. The speech bubbles were inspired by the blog posts written by several Pingsters. Of course, the protest never took place (duh). Please do not take this post seriously, yeah? =)