Written by Muhamad Shahrin Izhar (08S12).

The whole entry is taken from HERE. Nah, we decided not to edit 90% of the original blog post.

Hey guys, it's been quite a while. I've been in Bintan for 4 days, and it was a truly awesome experience. All you suckers who thought that it was gonna be a bullshit trip, you were wrong. The instructors were awesome, the teachers were awesome, Mr & Mrs Law were awesome, and the TPJC peeps who went were awesome.

I'm gonna break the entry about the trip into 4 parts - each part covering one day that I spent in Bintan. That way, I won't be cramming shitloads of pictures and words into one entry which could cause catastrophic damage to your poor computer (and mine too).

Right, let's get things going.

Day one: The departure, the happy faces, and the mosquitoes.

Finally, the day which I had been looking forward to arrived. I thought that I would have had a hard time falling asleep the day before but surprisingly, I fell asleep pretty fast. I woke up early, made sure that I had everything in my bag, got ready to leave, and I left home feeling excited.

I guess I'll skip the bus ride and what I did when I got to school. I'm sure you guys wouldn't wanna know all that. Haha.

Right, just before we left, Ms Tay confirmed our groupings and who we were going to sleep with for the three nights. There were five groups:

Kingfisher (my group) a.k.a The Kinkies.

Archerfish.

Mangrove a.k.a Man-garok. (according to Hanis)

Mudskipper a.k.a The Mats.

Horseshoe Crab a.k.a Horse-hoe Crabs.

After settling some stuff, we boarded the bus, and embarked on an amazing journey - to the ferry terminal. Haha.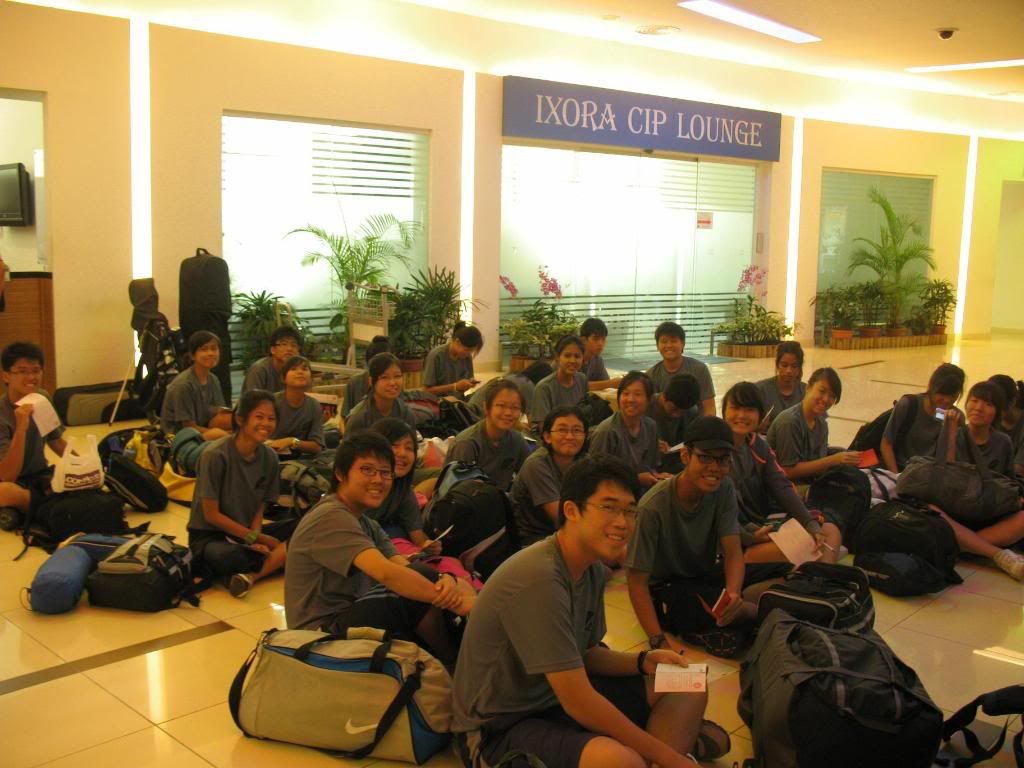 There, we settled more admin stuff, and when it was time to board the ferry, all of us were excited like little kids in the circus. Whooopeeee. But the bastard passport-scanning-machine didn't accept my passport. Damnnnnnn youuu machineeeee!

Well, nothing much happened on the ferry cause I was asleep with Zach next to me and Tzehaw in front. We slept. And slept. And slept. Then we reached Bintan. This is where the adventure starts. Yeah man!

Oh yeah, one funny thing was, I was enjoying myself in the Bintan toilet at the ferry terminal when suddenly Zach barged in and he was like, "Shah, where's the box?!" And there I was, with the most amazing "OMG" face ever.

You see, I was carrying this box filled with toys and shizz which will be given to the kids at the local schools. We spent hours planning, and painting, and playing with those things, and if we lost it, well.. we'd be screwed. So Zach and I ran to the ferry and the box was gone. I was like "Oh man I'm so dead, I'm so dead" but we found out later that the ferry crew had already brought it down for us. Whew, those dudes saved my ass.

We met our instructors for the trip: Afiq and Bhai. They were funny, and cool. I'll describe them more in Part 4. I'm gonna describe everyone in Part 4.

We then headed to the first school which we will be visiting during the trip. Pretty long drive, but Afiq made it fun cause we were all singing songs and all on the bus. Not those lame-ass campfire songs, we sang our favourite songs. I found out that Afiq listens to Chinese songs. Whoa.

We reached the school in about an hour. It was at some rural village and it was really cool cause the people at the village can just ride motorbikes without a license. So we saw like 8 year old kids riding motorbikes to school and all. Pretty darn cool, I must say.

I was pretty nervous cause I was doubting my capabilities to communicate with the kids. The thing is, the kids don't really speak English so each group had one Malay TPJCian who had to take up the role as the translator. I was the one who had to do the talking for my group. Hell, I might have gotten an A for Malay for the promos, but I still think that I speak Malay pretty weird-ly. Blame the Cheena secondary school.

We received a warm welcome by the Principal, the teachers and the kids. Especially the kids. They all seemed so excited to see us. Some were already waiting at the corridors. Some were peeking through the windows. I guess they don't really get visitors.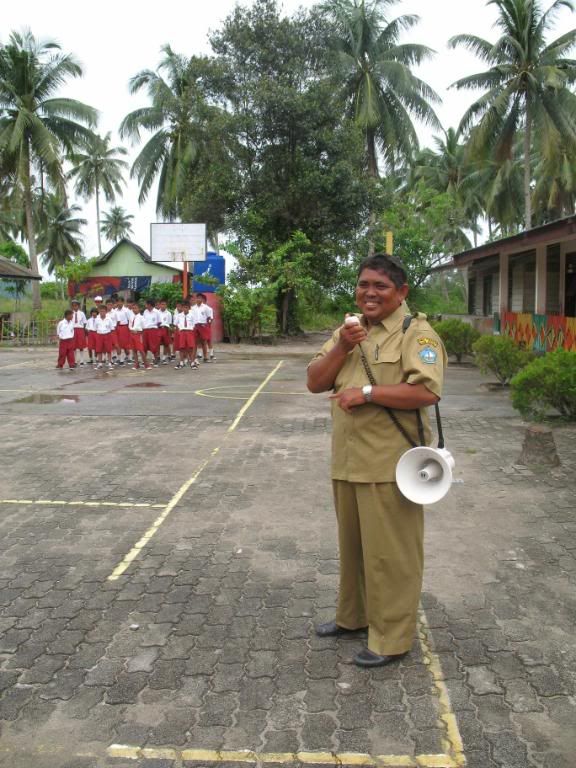 The Principal of the school.

One thought I had when I was the school was, "This place seriously reminds me of a Military School." Why? Cause of the way the teachers dressed. They all wore the same uniform as the principal, and I think that it looks pretty Military-style. The way the teachers controlled the students were also very military. The kids stood in neatly-aligned groups. They carried out basic drills and I was pretty surprised by that.

After an opening speech, we got started. It was time to play! Yay.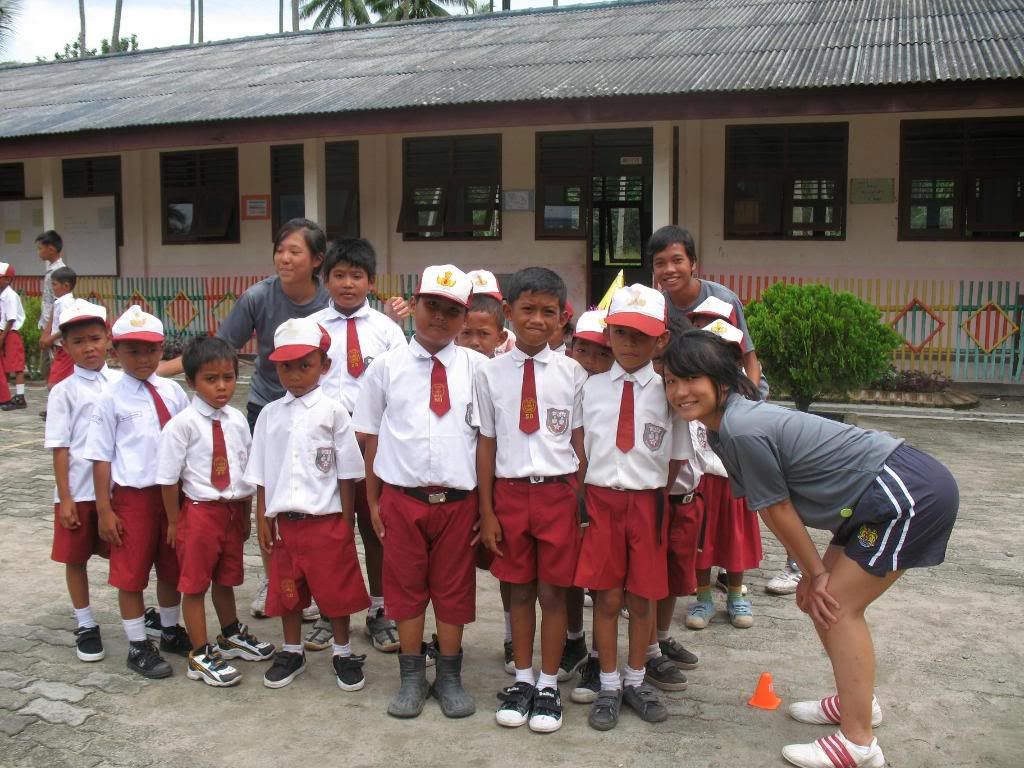 My group initially planned to just let the kids play soccer, but due to lack of space, we had to split up and help the other groups with their own respective games. I helped out in Hanis' group and boy, it was a very tiring job.

The objective of the game was somewhat similar to bowling. They had to knock down bottles. But the twist was that each bottle had a certain number, and that number represents the points the group will get when they knock it down. Simple enough right? That was cause it was in English! I found it hard to explain the game in Malay so I dumped all the explanatory work onto Hanis. :D

I was standing behind the bottles, picking them up whenever they fall. I was also there stopping the ball from going into the drain behind me. I was constantly moving, and before long, I was sweating pretty badly. But it was fun, cause the kids had fun. That's all that matters. Poor Steffi had to count the number of points. Honestly, I think it's harder to keep score than to pick up the bottles.

When it was time to leave, Hanis had to give the closing speech, and also to hand over the game-stuff to the principal. I was laughing at her about it, but I guess what goes around comes around, you'll find out why in Part 2 or 3. She did a good job, I was pretty impressed by her Malay.

Finally it was time to leave, but before that. We gave some biscuits and stuff to the kids. When the kids saw them, they all rushed forward to grab some. It was something that made me think a little bit. I mean, those kids, rarely get to eat stuff like that. So when they get some biscuits, they really cherish them. Compare that, to our lives here in Singapore. When we get biscuits to eat, some of us might go, "What?! Biscuits only? Wahlao…" Some of us might just chuck them aside. I think that we don't realise exactly how lucky we are, until we witness first-hand the lives of those who are less fortunate.

The kids also prepared a performance for us. They played the Kompangs, which are like traditional percussion instruments. It seemed pretty unrehearsed, but I appreciated it a lot. I just didn't know when they would stop, so I was like clapping pretty much at the wrong times. Haha.

Group shot!




Adorable.

When we were about to board the bus, Bhai was telling us to collect coconut husks behind the school. We were all like "What? Okay…." but after a while we found out that when we burn the coconut husks, it drives away sandflies and mosquitoes and other flying-biting-annoying insects. So we grabbed more and more.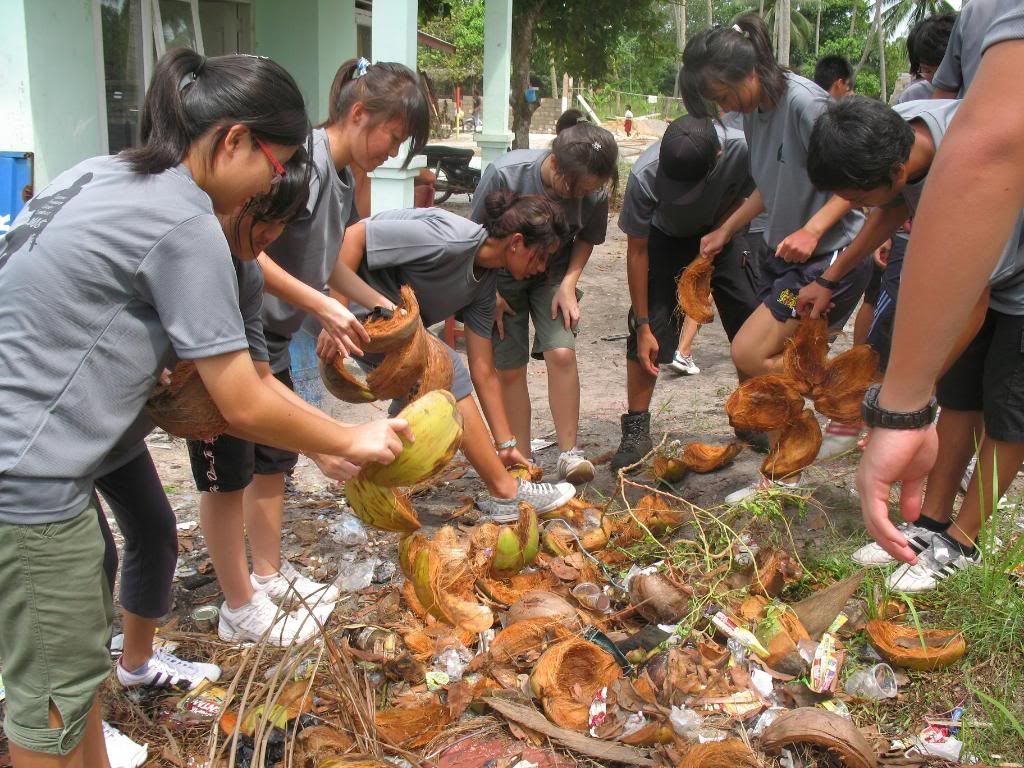 We had our packed lunch in some sheltered place which had chairs, and rooms. Shuhua thought that it was the "chalet" which we would be sleeping in for the 2nd and 3rd night. She was really bummed out about it. It was funny. Turns out, it was just a place where we could rest. Haha.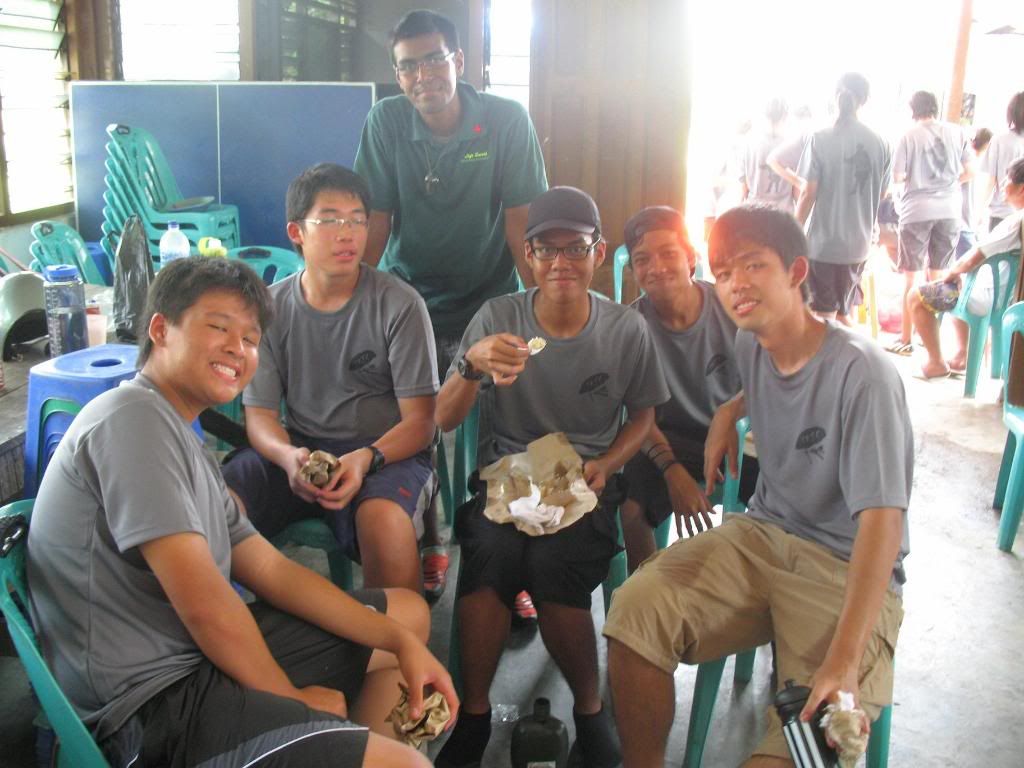 Food in my mouth.

Some of us couldn't finish our lunch so Ms Tay fed them to the stray dogs which were roaming the area. At least we didn't waste any food. Those dogs were really skinny too. They seemed like they needed the food more than us.

We then moved on to play team-building games. My group was called "Imba". Basically because we were awesome. Yes. Awesome.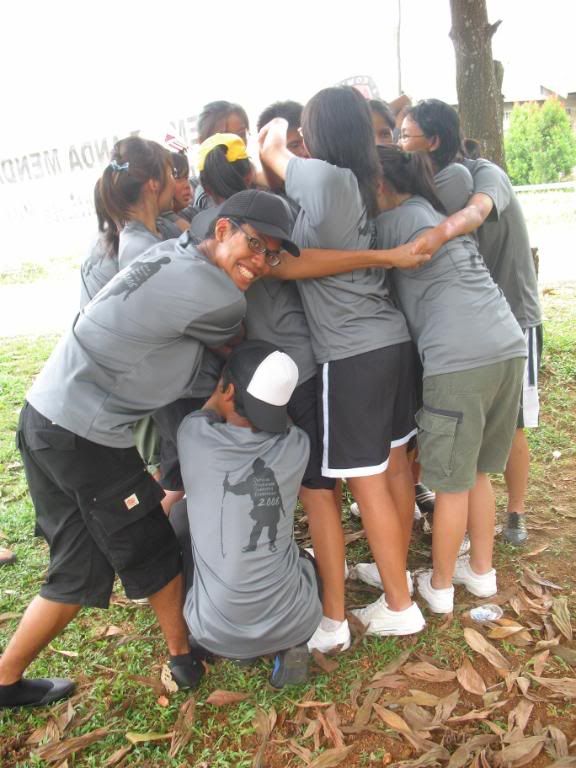 This game hurt like hell. My shoulders were about to be ripped off my body. Haha. Fuad suffered more though.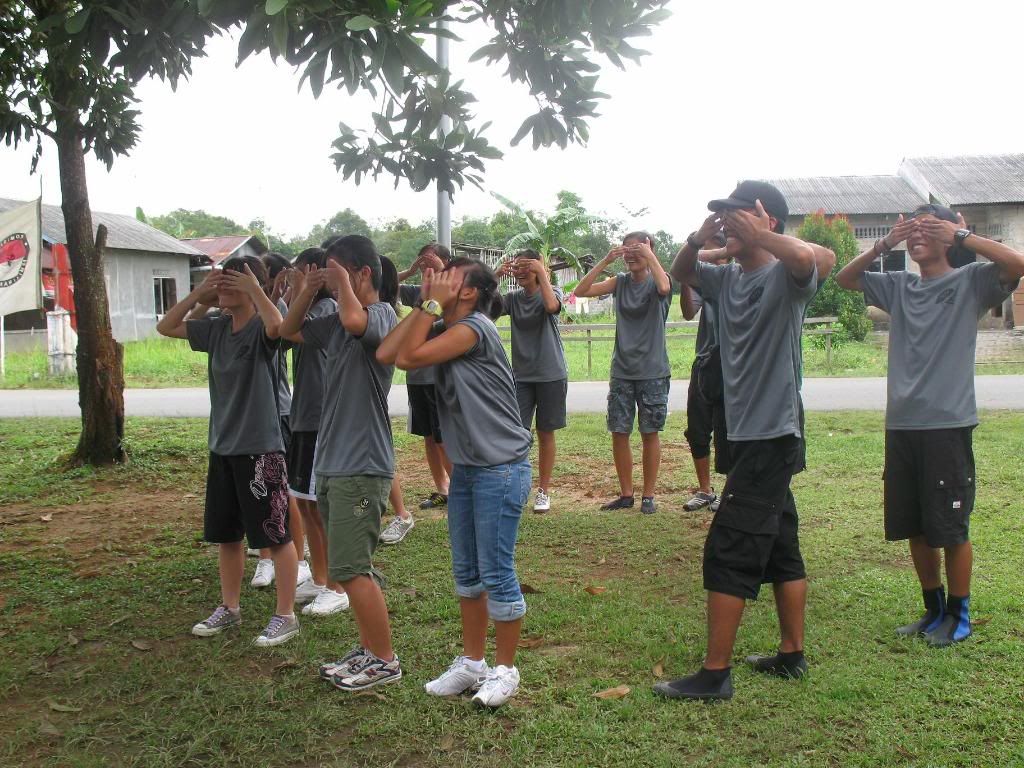 This, was the Bhai clap. Why? Afiq told us it was cause at night, we can't see Bhai. We can only see his teeth. Super racist, but it was all for fun.

After all that, we packed our daypacks, and put on the life-vests in preparation for our long walk to Pulau Sumpat.




On the way there, we came across some Mangrove saplings which had fallen, so we all had to re-plant them so that they will stand upright!

End of the day! We went to our tents to sleep. I had a hard time sleeping cause it was bumpy, and I kept rolling around. Wenwei started sleep-talking. It started raining. Mosquitoes started biting. I got cold. But it was an experience that I would gladly re-live.

Oh, you guys wanna see the "toilet" at the campsite? Here it is: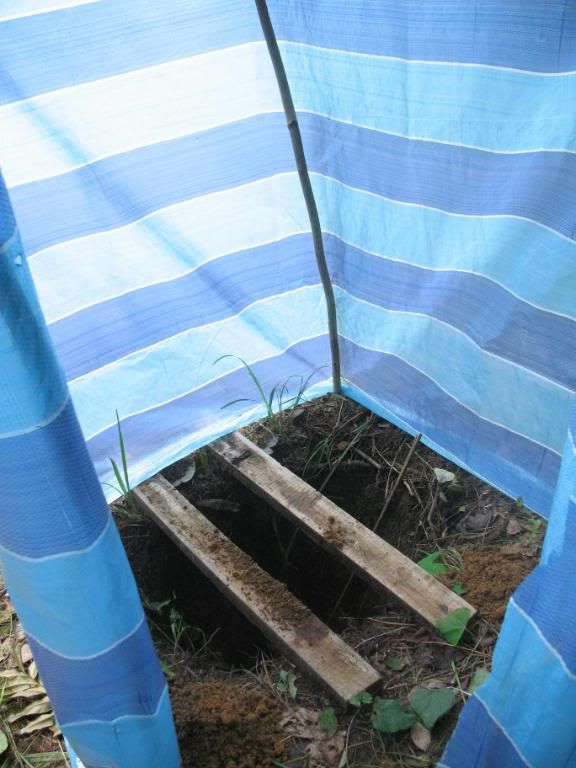 Awesome! Hahahaha. Seriously, it was fun! Hahaha. Well unless you had to take a crap (or if you're a girl), then it would be pretty uncomfortable. Haha. The campsite also had a nearby well where we washed our utensils and stuff. It got pretty dark at night, at the well, so it was pretty creepy.

Okay, I've been here writing for over an hour. Time for me to get some rest. I knew it was a good decision to break up the entry into 4 parts. Look how long this part was. Hahaha. If I were to write it all into one entry… wow. Good luck to all of us. Haha. :D

Interesting facts that happened in Day 1:

* I lost my spoon at night.
* Fuad pronounced "mosquitoes" as "moss-kiss-toes".
* I ate dragon fruit for the first time in my life.

You can read Part 2 HERE and Part 3 HERE.