Written by Abdul Hamid B Roslan (09A06).

I'll be upfront about the whole event and start by saying that Tampines Junior College was not my first choice. Walking into the school everyday, by lunchtime I'd find myself feeling really left out and disoriented because everyone seemed to be settling in quite easily. Secretly, I'd hoped to be able to adapt as quickly as they could, and from there I started to look at this year's orientation camp as something to look forward to; it presented a chance for me to bond with my classmates and find a sense of belonging with the school.




Lets skip back to a few days before, when camp was in full swing. It was Day One. We were told to create our Civics Group flag – symbolizing whatever it was that we wanted to embody. I got a chance to see how my class worked together for the first time. Everything went along fine and slowly, we got to know what each person could contribute to the entire group as a single unit.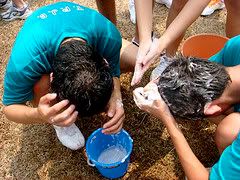 The games organized by the councillors was stellar. I think it was the games and the whole "Early Bird Contest" (whoever was at the venues first was awarded bonus house points) that really pushed everyone to work together. The games helped us let loose a little and it gave us a chance to have fun together as a class while at the same time working under pressure. From becoming the figures of a game of football to vigorously scrubbing our hair at another station to get suds to fill a bucket, or using any means necessary to transfer water from a bucket to bottles of different sizes, we all learnt something new about one another (e.g. In times of distress, the mighty shoe can act as a bucket to fill things with), and that subsequently brought us closer.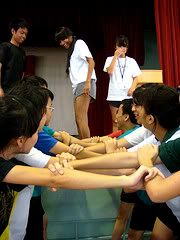 Another thing that really stood out for me was the fact that we were always encouraged to cheer. This, I think, helped to create a sense of familiarity that we can associate with the school. Cheering was fun; being able to scream your hearts out and proudly proclaim yourself as a member of one of the six houses forged a sense of identity with the school as well as with your class.

Anyone who has kept up with this blog would have read about the issues surrounding the way the dance was choreographed. Some commented that it was not suitable for guys while others thought that it was too hard to learn all three dance items at the same time.

I will have to agree with them, but only to an extent. Learning the mass dance was not easy, especially when being taught by someone who cannot possibly check and see if everyone's following the moves to the letter. At the beginning it was frustrating to see that repetition doesn't count for perfection when you just can't land the moves right. Furthermore, we were not given much time to really practise hard. It was like a mass dance crash course, though with great enthusiasm and the want to learn.

For me, I think the two main things about the camp that really helped everyone become closer to one another were the games and the cheering. Everyone was really enthusiastic about cheering for his or her own respective houses.

Another good thing to mention was the morning exercise on the second day. We were told to run around the school field while singing the school song. This was particularly hilarious because it seemed like as if most of the J1s then did not know the second verse of the song. So whenever we came to that bit of the song, all of us would just ad-lib with either "la la la" or some other inaudible sound. Eventually we managed to pick up the rest of the song, and by the time we were running around the track one last time, everyone was singing so loudly that it caught the attention of a few of the J2s who rushed to the railings at the study café to look at us.

That aside, I'm not the type of person who'd like to sugarcoat things and tell you that the camp went off without any hitches. Sometimes I felt like the reflections after each event was a little rushed and halfhearted. I don't really think it's feasible for people to set a certain time frame of which at the end of the whole thing, you're supposed to learn something new. Let's be honest here – no one is going to receive an epiphany if you time him or her and apply some good ole peer pressure. Everyone is going to need his or her own time to come to conclusions about the things they have done. Own time, own target right?

In preparation for Soul Night, each house was instructed to come up with a skit to advertise a product or thing. Being adolescents, you can guess as to the silly things we were told to pitch for. In spite of the odd product placements (come on, advertising hair?), all the houses still did their best to come up with something original. I think this helped us in terms of learning about teamwork, and being able to accept other people's ideas and slowly come to something that everyone can agree on. I think I'll count myself thankful when I say there wasn't any creative friction whenever our Civics Group or the House was called upon to work together and brainstorm.

On the final day, everyone was really tired but some of us didn't really want the whole thing to end. It had been such an amazing and memorable experience – we had learned so much and had so much fun at the same time – and the thought that all good things must come to an end began to emerge as the last day of camp arrived. We took part in a few more cheer-offs, watched a compilation of videos and pictures of what we had done for the past three days, and the next thing I knew I was already on the bus back home.

It is strange how the things you started out hating always turn into something you can truly be proud to be a part of. This year's orientation camp, like any other, was organized with the intention to foster stronger bonds between classmates and with the college as a whole.

Well, I think it worked like a charm.