I think the ending of the concert was rather draggy. The 23rd Student Councillors had to repeat the song they sang twice. The movement of the councillors to present the lighted candles to our dear teachers was not smooth too. I could see a whole pack of student leaders crowded on either side of the hall at any one time. The audience got impatient and some started to leave the hall through the back door. The ending was just messy.

Luckily this did not happen: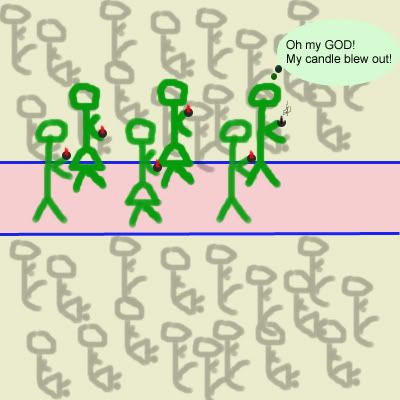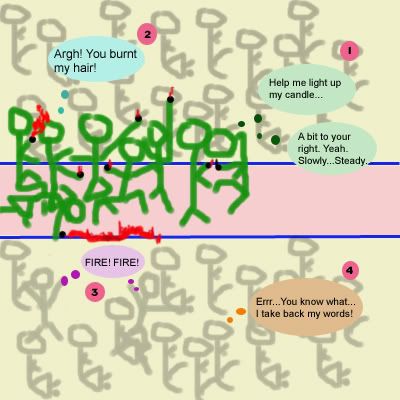 What they should have done is to assign each councillor to hold two to four candles. If there isn't enough manpower, they could have sought help from their seniors or CCA leaders. One more thing I have to add on is that instead of the whole bunch of councillors going to one side of the hall, they should have formed two rows and split up to the left and right as they approach the end of the red carpet. That can significantly reduce traffic congestion.

The game show 'Are You Smarter Than A TPJCian' was pretty well done. The host did a terrific job and the audience enjoyed his sense of humour. However, I think there are major technical errors when the game was about to commence. The stage curtain was opening and closing as if it was 'drunk'. The stage crew who was responsible to control the stage curtains should be fired for that. He or she is lucky that the host was able to pull a joke or two to cover the blunder.

Nevertheless, the performers did a fabulous job. The singers did what they are supposed to do - entertain the teachers. The second performer who took the stage, Fym, made a spellbinding performance with her very own composed song, Every September The First. The crowd was jubilant after she pronounced the final word of the lyrics.

The 'PostSecret' video was hilarious. Video quality was stunning, although I think they should have delayed the transition between any two photos a bit longer. The Student Council did an exceptional job for the video.

One more thing...I am very impressed with the courtesy that some councillors showed when they instructed us to leave the hall for the rehearsal. To be honest, quite a number of TPJCians I know were unhappy that they had to evacuate the hall. They rebelled but the councillors kept their tone low and kindly directed us to exit the hall. As a result, we cooperated. Good job, guys.

Special congratulations to Mr Malik for being shortlisted as a finalist in the President's Award For Teachers this year. He really deserves it and I hope he wins it ultimately.

Overall, I give an overall rating of 3.5 out of 5 stars.

Readers, what do think of this year's Teachers' Day celebrations? Do comment below and participate in the poll.